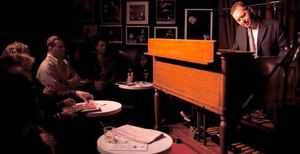 A modern ambassador of the mighty Hammond B3, Grammy nominated organist Pat Bianchi demonstrates a deep knowledge of jazz-organ history yet draws from a wide range of other musical influences. The result is a unique and creative voice that acknowledges the tradition while looking beyond at the same moment. 
His musical tenacity paved the way for 9 CD releases as a leader, extensive tours through out the United States and Europe, appearances at numerous jazz festivals and most recently opening for Steely Dan for 3 consecutive east coast tours. In addition to being a prolific bandleader Bianchi has appeared as a guest on over 30 recordings. The award winning organist has also enjoyed tenured membership in the bands of some of the most highly revered artists in jazz including; Pat Martino, Lou Donaldson, Joe Locke, Ralph Peterson Jr. and Chuck Loeb. 
With additional performance credits which include: Red Holloway, George Coleman, Terrace Martin, Mark Whitfield, Joey DeFrancesco,  Roy Ayers, Terell Stafford, Dakota Staton, Javon Jackson, Tim Warfield and Alvin Queen among many others, Bianchi continues to be in high demand. His command of the instrument, harmonic prowess, rhythmic intensity and versatility are rivaled by few. 
Born in Rochester New York, Bianchi hails from a musically gifted family. He began playing organ at the age of 7 and was playing his first professional gigs by the age of 11. In grade school he was enrolled at The Eastman School of Music's preparatory program for piano and music theory while at the same time, being mentored by numerous musicians in the Rochester music scene. Upon graduation from Berklee, Bianchi relocated to Denver, CO where he further honed his skill as musician. Inevitably he would relocate back to the east coast and New York City has been his home for over 15 years. 
While maintaining an active performance schedule, Bianchi also teaches jazz organ at Berklee College of Music. He has been an integral author of curriculum for one of the first Hammond organ programs and official majors offered by an institution of higher education. You can also hear Pat on Sirius XM Radio where he hosts the weekly show "Organized" featuring the greats of Jazz organ.